Product Manager job vacancy at Mumbai Western Track in Medley Pharma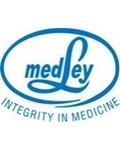 ---
Job Details / Candidate Eligibility Criteria
We have an opportunity for the position of Product Manager with Sinkhai Healthcare Ltd.(Sister concern of Medley Pharma ceuticals Ltd.) based at Mumbai - Head Office.

Desired Candidate Profile:
Therapy: Antibiotics/Multivitamins.
Qualification: B.Sc./B.Pharm, MBA
Experience: 3 to 8 years experience in PMT.

Apply Now
---
---
Help your friends, Share this job!
Related Jobs